The Best Things to do in Sydney at Night
Wednesday October 10th 2018
Sydney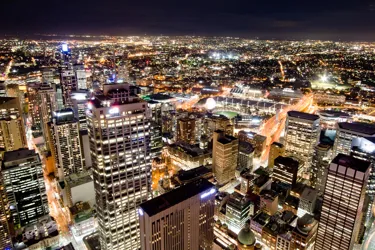 With so many things to do in a city, it can be tricky deciding how to spend your time to make sure you have a great experience. We've put together a list of the best things to do in Sydney at night, so you can make the most of your time, even after the sun sets.
Watch the City Illuminate from Sydney Tower Eye
Standing at 250m above ground and having the highest observation deck in the city, not to mention the 360-degree views, there is no better place to see Sydney at night than from Sydney Tower Eye Observation Deck. It is a truly magical spot to watch the sunset and admire as the city transforms from day to night. We are open until 9pm every night so it is a great way to end a wonderful day spent in Sydney. See Sydney in a different light as the city illuminates and the harbour sparkles as the sunsets over our beautiful city. Why not even watch the greatest fireworks show on Earth, and celebrate New Year at Sydney's tallest building.
Shop into the Night with Late Night Shopping Hours
Once you've come down from Sydney Tower Eye, take a stroll through Pitt Street Mall, one of Sydney's busiest cosmopolitan shopping areas. With so many shops, you are sure to have all your shopping desires satisfied. Plus, Thursday night is late night shopping night, so you can visit the abundance of shops well into the night.
Participate in a Great Australian Pastime
It's no secret that Sydney (and Australia) has its fair share of pubs. Relax with a drink, or two, at one of the many pubs in the Sydney CBD that are packed with people, both locals and tourists alike. From Sydney's oldest pub in The Rocks, to hip underground bars and rooftop oases that you never knew existed, there is a vibe to suit all.
Enjoy a Bite to Eat
If you thought there were many bars and pubs to choose from, just wait until you have to decide where to eat dinner! Sydney has so many options to suit all budgets and tastes, with every cuisine you can think of. Head down to Darling Harbour and Barangaroo, where you will be spoilt for choice. After dinner, take a stroll around the harbour and soak up the atmosphere, and see the city lights from the water's edge, it has to be one of the best things to do in Sydney at night.
So if you are looking for things to do in Sydney tonight, admire the city lights from Sydney Tower Eye!