The First-Ever Junior Sydney Brick Builder Winner Has Been Crowned
Sunday November 14th 2021
Sydney Exhibition, Sydney CBD, Sydney Day Out, LEGO Exhibition, Sydney Tower Eye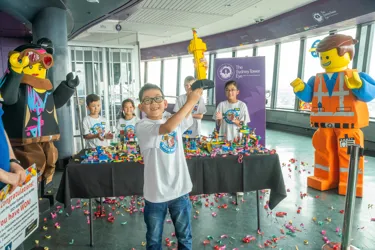 The First-Ever Junior Sydney Brick Builder Winner Has Been Crowned
In celebration of the 'Brickman Cities powered by LEGO® City' exhibition, Sydney Tower Eye has hosted the first-ever Junior Sydney Brick Builder Competition
LEGO® Masters Australia Judge, Ryan 'The Brickman' McNaught helped judge the live final competition and crowned 9-year-old Sydney local, Jayden Sit, the winner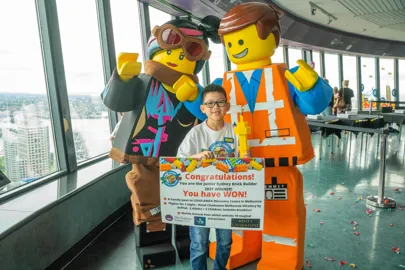 Sydney – Saturday 13 November: Today at Sydney Tower Eye six young LEGO®-lovers battled it out on a quest to be crowned the first Junior Sydney Brick Builder winner, with Jayden Sit from Roseville Chase taking out the coveted title.
Earlier this year budding builders between the age of 5-10 were asked to show off their LEGO® skills by creating and submitting their favourite Sydney landmark out of LEGO®, and oh boy did they get their brick on! The judges were inundated with amazing submissions and after much deliberation, six creative kids were selected to compete in the ultimate brick builder test during a live 'LEGO® Masters' style competition held at Sydney's iconic Sydney Tower Eye.
Hosted by LEGOLAND Discovery Centre's Master Model Builder, Kieran Jiwa and judged virtually by non-other than LEGO® Masters Australia judge himself, Ryan 'The Brickman McNaught, this morning's live final competition saw the six finalists put on a bricktastic display of passion and creativity.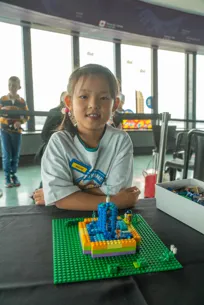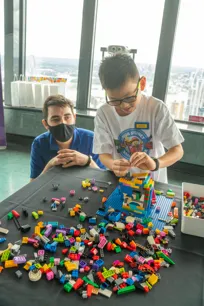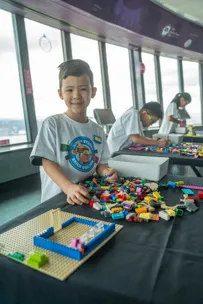 "It was incredible to see these young and creative LEGO®-lovers put their brick building skills to the test. It was a tough decision in the end but Jayden showed a lot of flair and passion throughout the competition not to mention his amazing final LEGO® build," said Ryan McNaught
The final competition brief was to create a structure that could be a new feature in the City of Sydney and Jayden wowed the judges with an artistic take of abstract statue looking from a framed window.
Not only was Jayden Sit crowned Junior Sydney Brickbuilder 2021 and prized with a LEGO® trophy, he also received a family trip to LEGOLAND® Discovery Centre in Melbourne, including flights and a one-night stay in a Classic Twin Room for up to 2 Adults + 2 Children, including breakfast at Hotel Chadstone Melbourne MGallery by Sofitel. On top of all of this, will also receive a Merlin Annual Pass which unlocks entry to 10 magical attractions in Australia and New Zealand, and of course LEGO®!
Junior Sydney Brickbuilder 2021 winner Jayden Sit said "I had the best time at the top of Sydney Tower Eye today and I'm so proud of my LEGO® skills! I can't wait to show everyone at school my LEGO® trophy and tell them about my trip to LEGOLAND® Discovery Centre in Melbourne."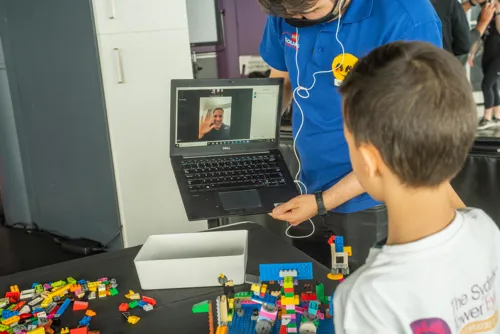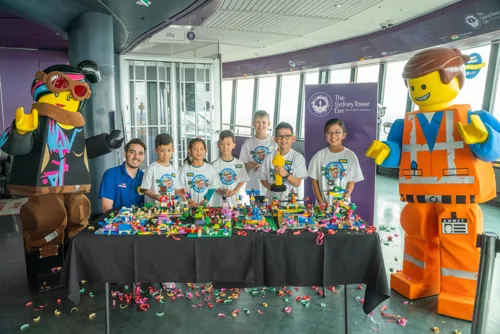 More Bricktastic news! LEGO® brick exhibition at Sydney Tower Eye extended due to popular demand
If you haven't had a chance to check out Ryan 'The Brickman' McNaught's incredible 'Brickman Cities powered by LEGO® City' exhibition on show at Sydney Tower Eye, the good news is it's been extended. Due to popular demand, Ryan recently announced the iconic Sydney landmark has extended the dates until January 31st 2022 for guests to visit the awe-inspiring Brickman Exhibition.
Book Your Tickets Now