Unique Places to Celebrate Special Events
Monday May 20th 2019
Events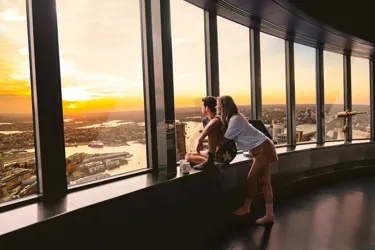 If you've got a special event coming up – why not shake things up a bit? Instead of opting for dinner at your favourite restaurant or a party at home, try one of these 'wow' venues where you can supersize your celebrations and mark the occasion in style.
If you want an event that's out of this world – go underwater! Catering everything from your inner-circle to a gargantuan guest list, celebrating amongst the marine creatures is an incredible experience. Imagine toasting the person of the moment while a shark swims by! This is a truly unique event space.
Add animal adventures to your event, and you've got an unforgettable experience. Share your celebrations with a wombat, chat to a kangaroo or see the sunset from the Koala Rooftop. When it's time to let loose, you can shake your booty on the WILD Croc Deck.
At 250m above street level, Sydney's tallest building offers jaw-dropping views of the city. What better backdrop for your unique event? To make your event epic, we'll give your guests a cocktail on arrival in our pre-show room. For the real 'wow' moment, head up to the Observation Deck to take in the vistas from sunrise through nightfall. This is a one-of-a-kind venue, whether you're putting on a fundraiser, corporate or private party, or you're proposing to your beloved. Cocktail events, corporate breakfasts, team building activities, social club events and New Year's Eve events are what Sydney Tower Eye does best. Keep an eye out for public events happening throughout the year.
Yoga From the Sky
Greet the day with some feel-good yoga flow and put yourself in a positive frame of mind with 360-degree views of the city. Take part in a yoga class at Sydney Tower Eye as you watch the morning clouds give way to the rising sun. These calming 45 minute sessions give your team some time out, promoting a sense of clarity before the busy working day.
After Hours Hire
This is your chance to create an exclusive event as you and your guests take over this famous Sydney landmark. When daylight turns to dark, enjoy a fantastic night of fabulous food, drinks and music. At 250m above the streets of Sydney, the Observation deck gives your guests unparalleled 360° views; take in the city lights from the highest vantage point in town.
Silent Disco
Get your party started 250 metres above the illuminated streets of Sydney with the exclusive hire of Sydney Tower Eye! Presented by Silent Sounds, Sydney's highest silent disco offers your guests exceptional panoramic views of the city at night while they dance up a storm. Choose your desired DJ or genre-swap between our 3 channels all night, and when you're done dancing – take off your headphones and take a break on the Observation Deck. Choose from a selection of tasty drinks, including cocktails from Melbourne Martini & Aperol Spritz, and get party-ready at the Face Paint and Festival 'Bio' Glitter station!
If you're looking to take your next event to new heights, get in touch with our events team today!